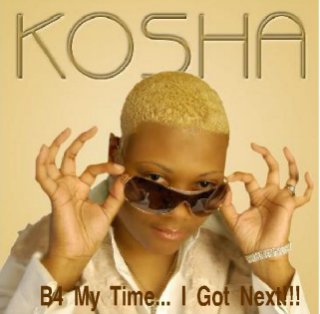 KoSha
KoSha, remember the name because you will hear it often. As one of the most exciting, up and rising female hip-hop artist out of Chicago, you can bet your bottom dollar that this female emcee will excel above and beyond in the hip-hop industry.
Signed to Chi-Sound records in July of 2006, Mr. Carl Davis (Chi-Lites, Tyrone Davis, Gene Chandler, Jackie Wilson) who is the C.E.O. of Chi-Sound Records, knew that he had a prize possession when listening to KoSha's demo which was presented to him by long time promoter and personal friend, Gus Redmond (MusicQuest). Every since then, KoSha has worked hard on her debut project, being Chi-Sounds first ever hip-hop release, entitled B4 My Time...I Got Next!!!!
KoSha presents to the world a different flavor to hip-hop and guarantees something on the album for everyone, regardless of race or age. Who out there can attest to that!!! Everyone claims to be that "breath of fresh air", well now it is really time for folks to breathe. KoSha strongly believes that female hip-hop artists do not need to exploit themselves sexually in order to succeed in this industry. Besides, if sex sold, there would be more platinum selling female emcees! She is by no means, a one hit wonder. KoSha delivers within her debut album, truth about the industry, female artists coming together to begin a movement, true love in relationships, and the harshness of living the street life. A variety of flavor is what KoSha expresses in her debut.
With production guided by multi-platinum producer K-Low of Chi-Low/Lowground productions (Tupac, Nas, Digital Underground, and many more), it was no mishap that KoSha has come a long way in such a short period of time. Many have compared her to the likes of MC Lyte, Queen Latifa, and the Lady Of Rage. Needless to say, KoSha grinds hard and stays motivated to succeed.
KoSha took to music at a very early age, playing several different instruments in her school's band. It was not until the latter years of KoSha's adulthood that she would take it up a notch and explore in this world of hip-hop. Starting her own production company, B-Smooth Productions, and then inking a deal with Chi-Sound Records. KoSha has been spotlighted on Chicago's #1 radio station 107.5 WGCI and 89.3 WKKC (Kennedy King College), and has performed all throughout the Midwest. Be on the lookout for her debut single featuring fellow emcee and long time friend Moesta entitled "Angel In Da Sky", hip-hop steppers at its best! For more information, visit www.bsmoothproductions.net, www.myspace.com/kosha1. For booking information contact Cory "Dymes" Chapton - chappy563@comcast.net or Will Woodley - wwoodley@chitownriot.com
---